Negozio di musica New World di Viram
Lo sconto di € 3,00 è valido solo se acquisti oltre € 10,00 e vale una sola volta!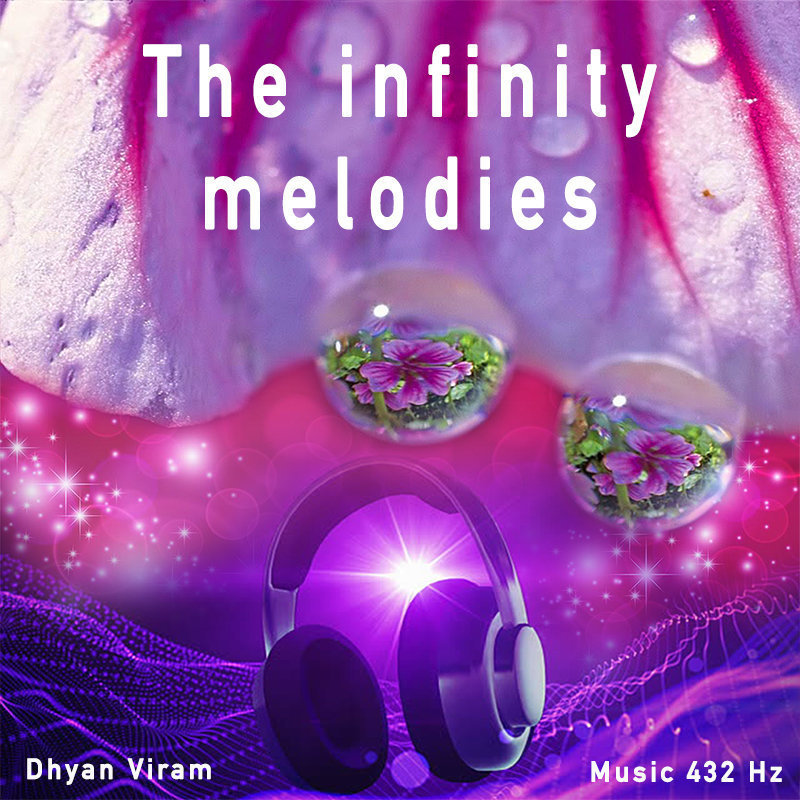 The infinity melodies
SKU 00034
Product Details
01 - Aurora boreale 07' 01"
02 - Nel regno di Vega 05' 42"
03 - In the forest of valley 04' 59"
04 - Lighthouse to horizont 03' 10"
05 - Oceanic dream 05' 38"
06 - Oscurità 06' 23"
07 - Pensieri fluttuanti 07' 22"
08 - Goddes blue 03' 55"
09 - Borderless Inn 05' 41"
10 - Poem of life 03' 29"

L'opera contiene 10 brani melodiosi e ancestrali. I suoni e le atmosfere orientali si fondono con quelli occidentali in una sinuosa e delicata armonia. In questo album si respira una musica poetica e spirituale pur essendoci melodie semplici e leggere. La quiete e il relax, sono stati possibili grazie alla cura dell'interpretazione strumentale assieme al delicato tocco delle tastiere ... dolcezza e melodia in un'unica realizzazione musicale. Durata complessiva: 54' e 00"


The work contains 10 melodious and ancestral pieces. The sounds and the oriental atmospheres blend with the western ones in a sinuous and delicate harmony. In this album you can breathe a poetic and spiritual music even if there are simple and light melodies. The quiet and the relaxation, were possible thanks to the care of the instrumental interpretation together with the delicate touch of the keyboards ... sweetness and melody in a single musical realization. Total duration: 54 'and 00 "


L'oeuvre contient 10 pièces mélodieuses et ancestrales. Les sons et les atmosphères orientales se mêlent aux atmosphères occidentales dans une harmonie sinueuse et délicate. Dans cet album vous pouvez respirer une musique poétique et spirituelle même s'il y a des mélodies simples et légères.

Le calme et la détente, ont été possibles grâce au soin apporté à l'interprétation instrumentale et à la délicate touche des claviers ... douceur et mélodie en une seule réalisation musicale.

Durée totale: 54 'et 00 "
El trabajo contiene 10 piezas melodiosas y ancestrales. Los sonidos y los ambientes orientales se mezclan con los occidentales en una armonía sinuosa y delicada. En este álbum puedes respirar una música poética y espiritual incluso si hay melodías simples y ligeras. La tranquilidad y la relajación, fueron posibles gracias al cuidado de la interpretación instrumental junto con el delicado toque de los teclados ... dulzura y melodía en una sola realización musical.

Duración total: 54 'y 00 "
Работа содержит 10 мелодичных и родовых произведений. Звуки и восточные атмосферы смешиваются с западными в извилистой и тонкой гармонии. В этом альбоме вы можете дышать поэтической и духовной музыкой, даже если есть простые и легкие мелодии. Спокойствие и расслабление были возможны благодаря уходу за инструментальной интерпретацией вместе с тонким прикосновением клавиатуры ... сладостью и мелодией в одном музыкальном исполнении.

Общая продолжительность: 54 'и 00 "
作品包含10首悠揚和祖先的作品。 聲音和東方的氣氛與西方的氣氛和諧地融合在一起。 在這張專輯中,即使有簡單輕快的旋律,您也可以呼吸出詩意和精神的音樂。 安靜和放鬆,可能要歸功於對器樂演繹的關注,以及鍵盤細膩的觸感......在單一音樂實現中的甜美和旋律。 總時長:54'和00"
काम में 10 मधुर और पैतृक टुकड़े हैं। ध्वनियों और ओरिएंटल वायुमंडल पश्चिमी लोगों के साथ एक शुद्ध और नाजुक सद्भाव में मिश्रण करते हैं। इस एल्बम में आप एक काव्यात्मक और आध्यात्मिक संगीत साँस ले सकते हैं, भले ही सरल और हल्की धुन हो।

चुप और आराम, कुंजीपटल के नाजुक स्पर्श के साथ सहायक साधन की देखभाल के लिए संभव धन्यवाद ... एक एकल संगीत प्राप्ति में मिठास और स्वर

कुल अवधि: 54 'और 00'
Das Werk enthält 10 melodische und alte Stücke. Die Klänge und die orientalischen Atmosphären mischen sich mit den westlichen in einer gewundenen und zarten Harmonie. In diesem Album können Sie eine poetische und spirituelle Musik atmen, auch wenn es einfache und leichte Melodien gibt.

Die Ruhe und die Entspannung waren möglich dank der Sorgfalt der instrumentalen Interpretation zusammen mit der zarten Berührung der Keyboards ... Süße und Melodie in einer einzigen musikalischen Umsetzung.

Gesamtdauer: 54 'und 00 "
Το έργο περιέχει 10 μελωδικά και προγονικά κομμάτια. Οι ήχοι και οι ανατολικές ατμόσφαιρες συνδυάζονται με τις δυτικές με αρμονική και λεπτή αρμονία. Σε αυτό το άλμπουμ μπορείτε να αναπνεύσετε μια ποιητική και πνευματική μουσική, ακόμη και αν υπάρχουν απλές και ελαφριές μελωδίες.

Η ησυχία και η χαλάρωση ήταν δυνατή χάρη στη φροντίδα της ερμηνευτικής ερμηνείας μαζί με την λεπτή πινελιά των πλήκτρων ... τη γλυκύτητα και τη μελωδία σε μια ενιαία μουσική συνειδητοποίηση.

Συνολική διάρκεια: 54 'και 00 "
Arbejdet indeholder 10 melodiske og forfædre stykker. Lydene og de orientalske atmosfærer blander sig med de vestlige i en harmonisk og delikat harmoni. I dette album kan du indånde en poetisk og spirituel musik, selvom der er enkle og lyse melodier.

Den rolige og afslapning var mulig takket være den pleje af den instrumentelle fortolkning sammen med tastaturets sarte berøring ... sødme og melodi i en enkelt musikalsk erkendelse.

Total varighed: 54 'og 00 "
O trabalho contém 10 peças melodiosas e ancestrais. Os sons e as atmosferas orientais se misturam aos ocidentais em uma harmonia sinuosa e delicada. Neste álbum você pode respirar uma música poética e espiritual, mesmo que haja melodias simples e leves. O silêncio e o relaxamento, foram possíveis graças ao cuidado da interpretação instrumental, juntamente com o delicado toque dos teclados ... doçura e melodia em uma única realização musical.

Duração total: 54 'e 00 "
Arbeidet inneholder 10 melodiske og forfedre. Lyder og orientalske atmosfærer blander seg med de vestlige i en sint og delikat harmoni. I dette albumet kan du puste en poetisk og åndelig musikk, selv om det er enkle og lette melodier.

Den rolige og avslapping, var mulig takket være omsorg for den instrumentelle tolkningen sammen med tastaturets delikate berøring ... søthet og melodi i en enkelt musikalsk realisering.

Total varighet: 54 'og 00 "
Het werk bevat 10 melodieuze en voorouderlijke stukken. De geluiden en de oosterse sferen vermengen zich met de westerse in een bochtige en delicate harmonie. In dit album kun je een poëtische en spirituele muziek ademen, zelfs als er eenvoudige en lichte melodieën zijn.

De rust en ontspanning waren mogelijk dankzij de zorg voor de instrumentale interpretatie samen met de delicate aanslag van de toetsenborden ... zoetheid en melodie in een enkele muzikale realisatie.

Totale duur: 54 'en 00 "
この作品には、10のメロディアスと先祖の作品が含まれています。 音とオリエンタルな雰囲気は、西洋のものと調和して繊細で調和しています。 このアルバムでは、シンプルで軽いメロディーがあっても、詩的で精神的な音楽を吹き込むことができます。 静かでリラックスした演奏は、楽器の解釈とキーボードの繊細なタッチ、単一の音楽的実現の甘さとメロディーのおかげで可能でした。 総延長:54 'と00 "

Eser 10 adet melodik ve atalara ait parçalar içeriyor. Sesler ve oryantal atmosferler, batılı olanlarla kıvrımlı ve hassas bir uyum içinde karışır. Bu albümde basit ve hafif melodiler olsa bile şiirsel ve manevi müziği soluyabilirsiniz. Sessizlik ve rahatlama, enstrümantal yorumlama, klavyelerin hassas dokunuşunun yanı sıra ... tek bir müzikal gerçeklikte tatlılık ve melodi sayesinde mümkün oldu.

Toplam süre: 54 've 00 "
يحتوي العمل على 10 قطع شاعرية وأسلافية. تمتزج الأصوات والأجواء الشرقية مع الأجواء الغربية في انسجام متعرج ودقيق. في هذا الألبوم ، يمكنك أن تتنفس موسيقى شاعرية وروحية حتى لو كانت هناك ألحان بسيطة وخفيفة. كان الهدوء والاسترخاء ممكنين بفضل العناية بتفسير الآلات مع اللمسة الحساسة من لوحات المفاتيح ... الحلاوة واللحن في تحقيق موسيقي واحد. المدة الإجمالية: 54 'و 00 "
Työssä on 10 melodista ja esi-isää. Äänet ja itämaiset ilmakehät sekoittuvat länsimaisiin sinussa ja herkässä harmoniassa. Tässä levyssä voit hengittää runollista ja hengellistä musiikkia, vaikka yksinkertaisia ja kevyitä melodioita olisi. Hiljaisuus ja rentoutuminen olivat mahdollisia instrumentaalisen tulkkauksen ansiosta ja koskettimien herkän kosketuksen ansiosta ... makeus ja melodia yhdellä musiikillisella toteutuksella.

Kokonaiskesto: 54 'ja 00 "
Tá 10 bpíosa súchasacha agus sinsearacha san obair. Cumaisc na fuaimeanna agus na h-atmaisféar oirthearacha leis na cinn iarthair i gcomhthéacs síochánta agus íogair. Sa albam seo is féidir leat spraoi a dhéanamh ar cheol fhilísiúil agus spioradálta fiú amháin má tá séodhanna simplí agus solas ann. D'fhéadfaí an ciúin agus an scíth a ligean, buíochas le cúram an léirmhíniú ionstraim chomh maith le teagmháil íogair na méarchláir ... binneas agus séis i gcur i gcrích aon cheoil.

Fad iomlán: 54 'agus 00'
Arbetet innehåller 10 melodiska och förfäderliga stycken. Ljuden och den orientaliska atmosfären blandar sig med de västerländska i en sinuous och delikat harmoni. I det här albumet kan du andas en poetisk och andlig musik även om det finns enkla och lätta melodier.

Tystnaden och avkopplingen var möjlig tack vare den instrumentella tolkningen tillsammans med tangentbordets delikata beröring ... sötma och melodi i en enda musikalisk realisering.

Total varaktighet: 54 'och 00 "
Save this product for later